25th May 2010
Abarth at Cadwell
Fiona and the Trofeo Abarth joined the British Superbike championship at Cadwell Park last weekend for the 3rd meeting of the season in her Autoworld Boston Bowl car. With Boston less than half an hour's drive away Fiona was hoping for a good showing at the Lincolnshire circuit but there was no "home advantage as Fiona explains;
"Cadwell Park isn't far from me but I've actually not raced here at all since 2004."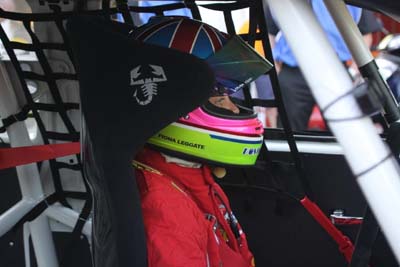 Because of this, the practice sessions on Friday were spent re-familiarising with the circuit as well as working on set up. Progress was made throughout the day and things were looking positive for qualifying on Saturday.
Unfortunately during qualifying the car no longer seemed to be handling as well. Fiona was getting terrible under steer everywhere making it a challenge just to complete a fast lap at all. With the car feeling this bad it wasn't much of a surprise to Fiona when she found herself down in 9th. She was having a better weekend then Bike ace Jeremy McWilliams in the guest car. He had a huge crash in practice putting him out of the weekend.
With Cadwell being so narrow (the track in many places being barely wider than two Abarths side by side) it was going to be a challenge to get a good result from the weekend now. Race one was held at the end of Saturday. Fiona got a good start and was quickly up to 8th. She now found herself behind her team mate, Matt Shead but was unable to find a way past. As the laps went by the under steer on the car got gradually worse. It was becoming a challenge to keep it on track once more but Fiona kept pushing and held on to eighth place by the end. Not the result she had hoped for but perhaps Sunday's race would bring a better result.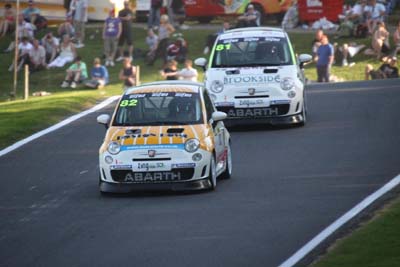 Fiona again got a good result at the start of race two, rocketing ahead of her team mate into 6th place. She was soon on the tail of Paul Smith in 5th. Unfortunately it rapidly became clear that the understeer problem was back and worse than ever. The car wouldn't turn into the apex of the corner and eventually Fiona couldn't hang on to it any longer, running wide and letting her team mate back through. This put her into 7th. She kept pushing for the rest of the race but the problem just increased making it impossible to regain her earlier position. However as the end of the race approached she began to catch Josh Wakefield, who appeared to be suffering from similar problems. She pushed as hard as the car would allow to catch and maybe pass him but there just wasn't enough time remaining so she crossed the line in 7th.
Fiona and the team will now look into improving the car ready for the next rounds at Snetterton on June 26th and 27th. There are plans to try and get some more testing done, in an attempt to close the gap on the front runners who have been testing and working on setup since last October. The Trofeo Abarth can be seen on TV on Sky sports as part of the motor world show.