26th March 2007
Lincolnshire Girlracer Wins
Last weekend saw Fiona enter the first EERC Britcar PS1 championship rounds at Silverstone in her Janspeed MG ZR. The meeting consisted of a qualifying session and two races, the grid of the second race being determined by the results of the first.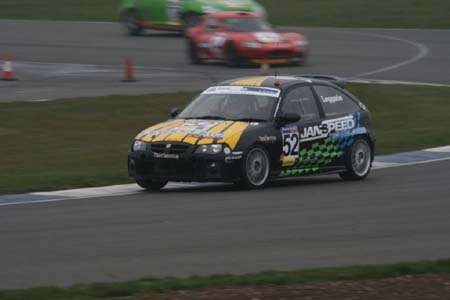 Race day dawned cold and overcast but dry. The qualifying session for PS1 began at 9:55. Fiona went out and put in loads of laps building up to a 1:38.009, this time put Fiona in pole position for the first race. Things were looking very good and Fiona felt confident with Team TWC Racing running car.
Race one got under way just after the lunch break at 14:10. The race began with a rolling start with Fiona getting away well. However one of the Daniels motorsport civics driven by Sean Mcinerney had an amazing start up from 11th and managed to slip past Fiona on lap 1. Fiona stayed on his tail however, and within a few laps Fiona passed him. Sean then tried to repass Fiona going into Luffield. It was then that disaster seemed to strike! Sean tapped the rear of Fiona's car sideways into what seemed to be an almost certain spin. But Fiona's car control won over and in a display of driving that Yvan Muller would have been proud of, she somehow wrestled the car from being completely sideways to the track all the way back to facing the right direction. All this without even losing a position! After that scare, Fiona put in a series of very quick laps pulling away from Sean. She finished in 8th position overall, winning her class by over 7 seconds, as well as beating all but two of the cars in the class above hers!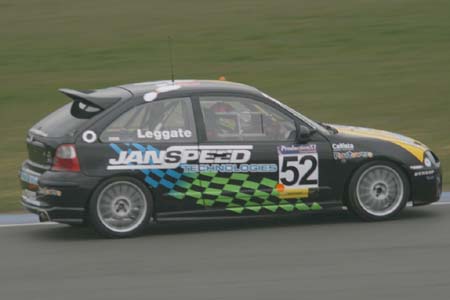 Race two was to be the last race of the day with starting positions being determined by the first race. The conditions had worsened significantly by then and the track was very slippery with light rain falling. There was also by now very little light with the race almost looking like a night race! Fiona again got away well, but the car was under steering badly in the wet conditions and she dropped to third in class. However this appeared to make her even more determined! Firstly she again dispatched the Civic from the first race, managing to avoid getting tapped this time! Next was the quick little Rogers/Potter Renault Clio of Team Think. This proved to be a tough opponent but within a few laps Fiona passed him going into Brooklands. She then again put in a series of quick laps as she had done in the first race, pulling away from her opponents. She finished in another fine 6th position overall, ahead of the second class 3 car by over 3 seconds. She was ahead of all but 1 of the theoretically faster class 2 cars.
Fiona said "That race was much tougher, with the conditions getting really bad and the car under steering quite a lot. But we got the result we wanted in the end. I'm really pleased with that."
It had been a brilliant weekend and a perfect start to the season for Fiona in PS1. A clean sweep, class pole and 2 class wins with excellent overall results, an 8th and a 6th. Fiona now looks forward to starting off her BTCC campaign in the Kartworld MG ZS at Brands Hatch next weekend. The British Touring Char Championship will be aired LIVE on ITV this Sunday and Live on Men & Motors all day.
Race Report by Marc Waller