19th June 2006
Brands Hatch Britcar
This was Fiona's second time out in the Janspeed sponsored Britcar this year.
On Saturdays first practice the team only managed 7 laps. New larger AP brakes had been fitted to the MG ZR 190 but the team were having problems adjusting them. Having a slight miss-fire on the engine saw Fiona qualify in 4th position.
Rob Oldaker drove the first stint for the first race of the day. Having never driven the Brands Hatch GP circuit before Rob made the change over in 9th position. Fiona took over and passed the finish line in 4th place.
Sundays race was a 2-hour endurance race. Once again Rob started the race and was putting in faster lap times. After 52 minutes the car came in for a re-fuel, tyres change and driver swap. Fiona drove the car hard with her lap times within a second of her qualifying times. There were still problems with the brakes and a slight miss-fire. With 10 minutes to go there was a real problem. Sitting in 3rd position with the podium in sight, the clutch failed and the race was over.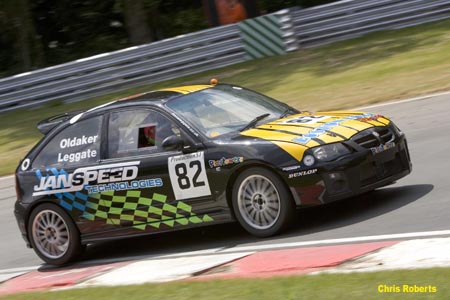 June 24th/25th Fiona will be attending the Silverstone International with expected crowds of 30 to 40 thousand. She will be competing with her Mayflower MG ZR.