2nd April 07
Brands Hatch BTCC 2007
Last weekend saw Fiona competing in the first rounds of the British touring car championship at brands Hatch in her Kartworld Boston Bowl MG ZS. Fiona's was feeling quite confident going into the event after her success in the EERC races the previous weekend.
Saturday saw practice and qualifying and Fiona decided on building up steadily throughout the day, as this was her first proper running in the car in dry weather. She gradually improved her times throughout the day, ending up with a best of 50.874 just over 0.4 of a second off her team mate Jason Hughes, an excellent result given Fiona's limited running in the car. However with the c the times throughout the grid being very close, this put Fiona 20th on the grid. (The entire top twenty being only 1.4 seconds apart, one of the closest grids for a long time.) Fiona felt she could go even better in the race and move up the field.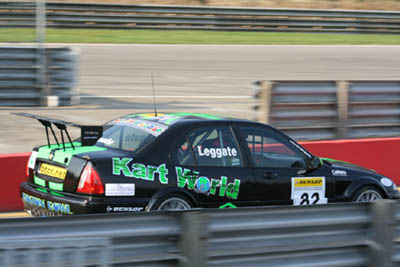 Race day dawned dry but with a cold wind, the first BTCC race of 2007 started at 11:30am. The cars formed up and waited for the lights. This was Fiona's first ever start in the MG ZS which was excellent as she managed to pulled alongside the Arkas/Techspeed Vauxhall astra of Erkut Kizilirmak, it seemed 19th position would be hers straight off the grid. However Erkut decided to violently shut the door and slammed into the side of Fiona's MG. The car slewed sideways and Fiona fought to control it. The Arkas/Techspeed Vauxhall made contact with Fiona's MG a second time and this time her car control would not be enough to keep it on the track. As the car was already destabilised it spun and slammed violently into the pit lane Armco. It was a massive impact, but fortunately the strength of the MG prevented Fiona from sustaining any injuries. However the car had not survived the crash so well and had huge damage to the read and front-end, which included both bodywork and suspension. The Team owner Jason Hughes decided there would be an outside chance of repairing the car for the second race.
The Enthusiastic and hard working mechanics of the Kartworld team got to work on the car as soon as they got it back to the garage, working through their lunch break to try and get Fiona back on track. There was a huge amount to do and a lesser team may have given up for the day. But with help from other BTCC Teams, which included WSR and BTC Racing. Race two was coming up at 1:35pm, the clock was ticking away fast. With Fiona's teammate Jason Hughes car also needing work after and excursion at Druids it proved an impossible task to fix both cars for the second race and Fiona had to watch from the sidelines.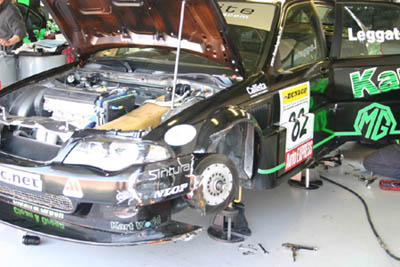 Fortunately the third race was not until 4:20pm, which meant that Fiona's car could finally be fixed. It was not perfect, there was a brand new steering box fitted which was untried and normally the car would be carefully fettled and adjusted in a workshop for hours to set it up just right rather than in a pit garage, but Fiona's mechanics had done a tremendous job and she wanted to try and do well in the last race to reward all their hard work.
The car was pushed out onto the grid for race 3, there was no time left for fine adjustments. Obviously after not competing earlier Fiona had to start race 3 from the back. She had another brilliant start and went straight past Rick Kerry's diesel BMW 1 series. Then she quickly despatched Jim Pocklingtons BMW 3 series. Next up was Simon Blanckley's Honda Integra, the same type of car that has won the championship for the past 2 seasons. Fiona bravely sliced up the inside going into clearways and she was through! John George's similar Honda Integra was next and Fiona was soon right up behind him. Sadly her move went wrong and she was dropped to the back of the field.
Fiona was not down heartened though, in fact this seemed to fire her up even more and she set about passing cars once again, including the brand new Alfa Romeo 156 of Richard Marsh. Within a few laps she had carved through the field again and found herself behind the Arkus/Techspeed Astra once again, who was running in 15th position. You could easily see that Fiona was faster than the Arkus/Techspeed Astra and Erkut had no choice but to drive defensively. Fiona wanted revenge for earlier and in the best possible way by beating him fairly on the track. She tailed him for several laps sticking closely to his back bumper looking for a mistake or a weakness that she could exploit to pass him. Then just a couple of laps from the end she struck, The Turkish Saloon Car Champion made a mistake going into clearways and Fiona passed him cleanly on the inside. That was how it should be done! The Brands Hatch crowd let out a massive cheer! Fiona got 15th place, but more importantly had finished ahead of the car of Erkut Kizilirmak, she had got her revenge! Jason was a couple of places up the road in 13th. They were the 2nd and 3rd BTC cars home. The team were very pleased with the result and so was Fiona;
Before the killer move! - Picture from Mike Ward - Flickr
Fiona said, "I'm very pleased with that race, it's been a tough day but it's ended really well. There is a lot more to come from the MG's and the Judd engines were superb, as they never missed a beat. My teammate Jason Hughes had some bad luck today but also come back in the last race. It is such a pleasure to be part of a Happy and enthusiastic team."
It had been a very up and down weekend for Fiona and the team, but Fiona had shown that she's really a racer. Hopefully Rockingham will bring better luck and even better results.
Fiona's next race will be the BTCC from Rockingham, which can be seen live all day on Setanta sports or as a mixture of highlights and a live race 3 on ITV3. Highlights shows will also be screened on ITV1 and Men & Motors.
Report & Pictures supplied by Marc Waller