23rd February 2006
Bio-Ethanol Conference
Lincoln University was the venue of the first Lincolnshire County Council Bio-Ethanol Conference.
The conference was all about setting an initiative up with the County Council, British Sugar and Lincolnshire Farmers.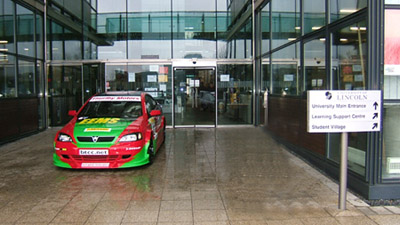 A third of Sugar beet and Wheat is grown for the UK in Lincolnshire; these crops could be turned into a bio-ethanol.
Fiona and the Thurlby Motors British Touring Car Vauxhall Astra were on display in the main entrance at the newly built Lincoln University.
Fiona did a 15 minute presentation on the British Touring Car championship and her bio-ethanol powered car.