16th July 2007
Donington Park BTCC
Fiona was at Donington Park circuit at the weekend for the 6th meeting of the BTCC championship. The whole team were hoping that this could be the meeting where they would finally shake off the reliability problems that have plagued the car all season long. Hopefully the weekend would also last longer than last season where Fiona had to sit out the whole of Sunday when her only engine failed at the start of qualifying. Fiona built up gradually throughout the two practice sessions and by the end of the second session, with a time of 1:15.560 she was just under 2 tenths of a second off her Team mate Jason Hughes best time of 1:15.279. She was confident of finding another big chunk of time in qualifying which would hopefully lead to her best position of the year.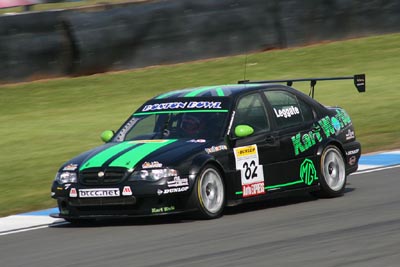 Qualifying started halfway through the afternoon and after a few laps to check everything was okay on the car and to build up speed, Fiona went for a quick lap. She was absolutely flying and was on course to be right up there on the grid with Jason for the first time this season. Then coming out of the Craner curves into the old hairpin, Fiona made a small mistake. Donington is a very unforgiving circuit and this put her straight off the track into the tyre wall, putting her out of the session. All she could do was watch from the sidelines, later joined by John George who went off in the same place. Fiona was very upset at making a mistake at such a critical moment, especially when it was looking like she could have set a good time. The car had quite a lot of front end damage, but it was nothing the team couldn't fix by race day on Sunday.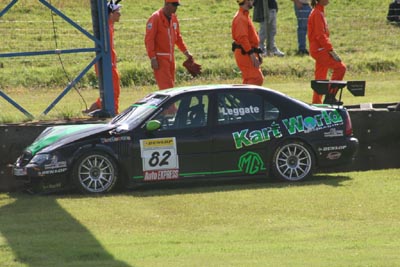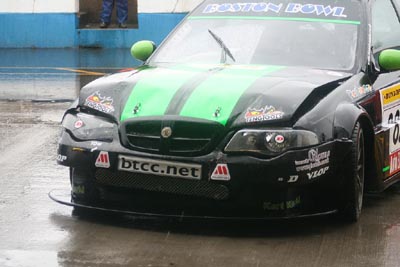 Sunday started as forecast with lots of heavy rain showers. After her qualifying disaster Fiona lined up in 21st on the grid with just Tom Chilton behind her whose car failed the weight check. The gearbox of Jason's car then failed on the parade lap, leaving Fiona as the team's only representative in race 1. Fiona took the start and the first corner quite cautiously, there had been a huge pile up in the preceding Seat race and she wanted to be in a position to avoid and perhaps then benefit from any incident that would occur in this race. With the rain getting ever heavier, partway round the first lap Fiona's wipers failed leaving her with almost zero visibility. This caused her to run slightly off the circuit heading towards Coppice, getting tagged by Tom Chilton as she rejoined. The rain was getting ever heavier and with her wipers still out of action Fiona had considered pulling off, but she was determined to try and get a result. It was getting impossible to see the track though at all and Fiona missed her braking point heading into the final Goddards Chicane. She ran wide across the grass trying to rejoin but there was no grip and she slid into the tyres putting her out.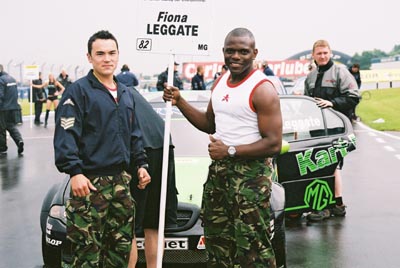 Fiona's Grid Boys
Race 2 was again wet; the rain looking like it had set in for the day. Fiona got a good start and was racing in a pack that included Jason Hughes and Martyn Bell. The Kartworld cars ran nose to tail with Fiona regularly setting faster laps than her team mate and many of the cars in front of her. In fact Jason was so much slower than her out of many of the corners that she ended up giving him a bit of a "hurry up" tap in the rear! Both Kartworld cars eventually made it past Martyn Bell and set about catching Richard Marsh who had got a bit further up the road while they had been battling. There wasn't enough time to catch him however and the Kartworld cars looked likely to finish in formation behind him. Sadly Jason's car failed on the final lap and Fiona took 19th place. It wasn't the result she had hoped for but at least it was a finish in terrible conditions and her fastest lap of 1:27.874 was competitive with many of the cars ahead of her.
For race 3 the conditions were no better, with the rain falling once more, the track was soaked. Fiona got a brilliant start rocketing her ahead of 5 cars. Sadly Fiona hit a patch of standing water causing her to skate off across the grass and she dropped several positions, she would have to try and battle her way back up. Due to the terrible conditions the organisers had decided to make a large chunk of the track a permanent yellow flag zone which was going to make overtaking very difficult. She soon caught up to the back of 17th places Richard Marsh in the Alfa, lapping as much as 2 seconds a lap faster than him as she was catching him. Richard spotted her in his mirrors and speeded up but she was still faster and was all over the back of his car. For lap after lap she tailed in down the straight, but Richard drove as defensively as possible keeping to the inside line. With the yellow flag zone in force there were only a couple of possible overtaking opportunities and Richard was keeping these covered. They crossed the line together just 0.199 seconds apart in 17th and 18th positions, Fiona nearly drawing alongside.
It had been a slightly disappointing weekend in terms of results but Fiona was much closer to her team mate Jason and she set some very good lap times over the course of the weekend.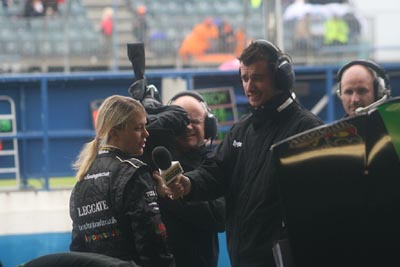 Next up is the BTCC round at Snetterton in only two weeks. Fiona had a couple of excellent races there in the EERC PS1 championship earlier in the year so hopefully she will be hoping to continue that form at the Norfolk circuit. You can catch all the races on Setanta Sports Throughout or as a combination of highlights with a live race 3 on ITV 1.
Supplied by Marc Waller