MIXED WEATHER AND MIXED WEEKEND FOR FIONA
Snetterton, Norfolk – Rounds 19, 20 and 21 of the British Touring Car Championship took place at a windswept and wet circuit, leading to three dramatic races in front of a large crowd and live on TV.

Due to engine failure at Donington, 25 year old driver Fiona Leggate had missed all three races two weeks before and was anxious to get back on track in the Thurlby Motors Boston Bowl Tech-Speed Astra which has support from EEMS (Energy Efficient Motorsport) to run on E85, a blend of 85% renewable fuel bio-ethanol with petrol.


In a question and answer session for EEMS guests on Saturday lunchtime, Fiona pointed out that the performance of the car is not affected by running an alternative fuel. "There's no difference with the car, it's a well balanced and competitive car, although we run on a comparatively small budget as a private team. I've only been racing for four years and many of these BTCC drivers are vastly experienced and really tough competitors. I raced a Mini saloon car two weeks ago at Thruxton where I qualified fourth and set fastest lap. I come here and find I'm in the second half of the grid, a big difference. I've just completed my first season, having started half way through last season. There's plenty more to come. We have had an oil leak on the brand new engine so I'm a little worried about qualifying this afternoon."

Not only was the rebuilt race engine only installed on Thursday morning, leaving no time for testing, but strong cross winds at the former airfield circuit were causing problems at the high speed Coram and Riches corners. Two free practice sessions on Saturday showed Fiona's car to be slower than last year in the damp conditions.

In qualifying, Fiona posted 16th fastest time in the 21-car field, the same position as 2005 and one second a lap faster than the morning's practice.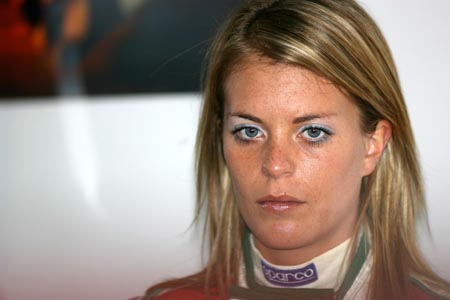 RACE ONE
Raceday Sunday dawned very wet as the fans patiently queued for parking. Two earlier support races had cleared some of the water from the track but heavy rain clouds remained for the first BTCC race, making tyre choice difficult. The Dunlop control tyre is only supplied as either racing slicks for dry conditions or full wets, a treaded tyre. The Team opted for wets, while some of the bigger teams mixed slicks on the front and wets on the rear.

However, as the track dried the wet tyres caused understeer. Fiona made contact with some dislodged tyres during a spin when she locked up at the Esses at quarter distance, and had damage on the left side after contact during Gavin Smith's overtaking manoeuvre at Russell on lap 16.

Smith was out before the end of the race as a result whereas Fiona battled on to finish 13th, having passed Martyn Bell's BMW. "I had some problems with the downchange from fifth to sixth gear at the Esses," said a determined Fiona, "but I still set a lap time to match Team RAC MG driver Rob Collard."

RACE TWO
With conditions now fully dry, Fiona started 13th on the grid on slicks in a race full of incidents on the track which brought out the safety car and extended the race from 18 to 21 laps. Fiona worked her E85 fuelled car up to 13th position by lap 13, and up to 12th on lap 16. "I had a rubbish start, but it's good to finish 12th for the next race. The rear beam was damaged in the first race, which affects the handling of the car, and then at the end I had oversteer from the tyres."

Tech-Speed's Sandra Humphries pointed out more work being completed in the garage, "We could hear the exhaust was damaged, and it's a difficult spot to reach through the engine bay. We have to take out the gearbox and we'll be welding the exhaust in position."

RACE THREE
Starting in 12th position on the grid, Fiona maintained position until lap 9, then later noticed a misfire so the car would not rev. "It was OK on low revs but all wrong on high revs and would not pull away", said Fiona. "I came past the pits for Marvin to hear and he called me in only 5 laps from the end. It was just not meant to happen this weekend. I had a big gap ahead of me but I also had a big gap behind me, I was running well."

The misfire could not be replicated in the garage. "It was definitely there when she tried to rev,' Said Team Manager Marvin Humphries. "We need to go through the data thoroughly and see what happened, it's throttle related. It could be a sensor breaking down. All we can say for now is it's some type of electrical fault."