3rd September 2007
BTCC Knockhill 2007
Last weekend saw Fiona competing in the penultimate meeting of the BTCC season at Knockhill in Scotland. After all the carnage of Brands Hatch, Fiona was hoping for a trouble free weekend.
Fiona had only raced at Knockhill once before. This was in 2005, in mostly wet conditions and in a different car so she used the first session to re familiarise herself with the circuit. Other than a fuel pump problem, things went quite smoothly in session one. She then found some more time in the second session and was hopeful of finding even more in qualifying to put her close to her team mate Jason Hughes on the grid.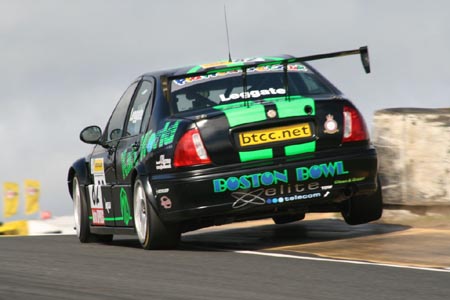 The first couple of runs in qualifying were used to scrub in some new tyres, a procedure followed by most of the teams. She then went for some fast runs and set some times in the 55-second bracket. She returned to the pits for some new tyres and a check over. The team asked her over the radio if she wanted to go for another run.
"Yes, I want to have another try, I'm sure I can find some more time yet." Came the reply from Fiona.
The team finished work on the car, lowered it to the ground and sent her on her way. However it was soon apparent something was very wrong.
"I'm going to have to come in," She said over the radio. "I've got a really bad vibration, it feels although a wheel is falling off."
The team immediately checked the car over and soon found the source of the problem. A brake disc had come loose and was rattling round causing the whole wheel assembly area to wobble and vibrate. It was an easy thing to rectify but it meant there was no more time to go out for another run. Fiona had to settle for 15th on the grid.
Saturday evening saw Team Leggate enter the annual Dunlop Charity Curling tournament with Jason Hughes entering a rival Kartworld team. This contest involves the various teams chucking old racing alloy wheels down a curling course in front of the Dunlop tyre truck. Fiona's team scored very highly including a 50-point bullseye, but in the end Dunlop's own team proved to be victorious, despite strenuous and somewhat dubious efforts by the TOCA team to ensure their own victory!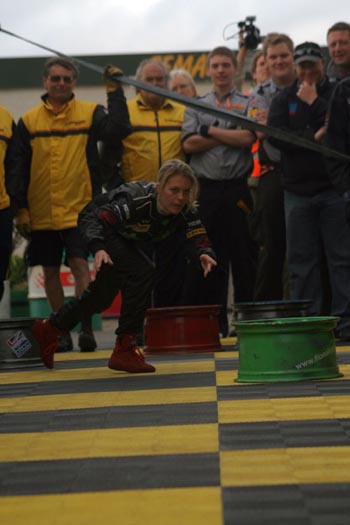 The first race on Sunday got under way at just before 11am. Fiona got quite a good start and avoided a collision between Mat Jackson and Matt Neal at the Hairpin. Soon though, Fiona was reporting a problem over the radio;
"Something's wrong, the car's is losing power and is starting to misfire, I'll have to bring it in. "
The car got slower and cut out altogether in the entrance to the pit lane, from where she was pushed back to the paddock. Within a lap Jason's MG stopped at the hairpin with what seemed to be the same problem. What could be wrong? The team investigated and soon found the answer. The meter of the refueling rig was faulty. It was reporting an incorrect amount of fuel going into the car. This had caused both cars to be under fuelled, meaning they had simply run out of Bio-Ethanol! It was a frustrating problem that had put both cars out of a race where they could have scored points. But at least it was easily fixed and the cars would be back out for race 2.
Before the second race the popular autograph session took place with huge crowds filling the paddock. Fiona and Jason completely vanished behind a big crowd of eager autograph hunters! The crowds finally cleared just in time to push the cars out into the pit lane for race 2. Fiona would be starting in 14th position with Tom Chilton and Matt Neal right behind her. She got another good start but sensibly opted to let Neal and Chilton past, rather than risk getting tipped off the circuit if they had tried to muscle their way through. She remained ahead of Alan Taylor's Honda Integra, and set off in pursuit of Martyn Bell's BMW. She was much faster through the corners but the BMW's superior power pulling it clear on the straights. Fiona was determined to get past with her team mate Jason having passed him earlier. Going down the Hill after the first corner Bell went a bit wide and was very slow. Fiona sensed and opportunity and dived for the inside. But Bell hadn't seen her and they touched. Fiona held the car straight and kept it on track. By now Jason's MG was quite far in front, Fiona pushed to close the gap but there just wasn't enough time and she finished in 15th place, 4 seconds behind Jason.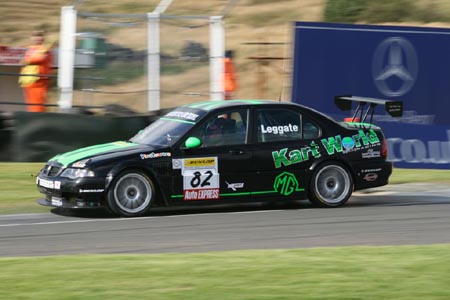 Fiona and the team were pleased to finally have a finish after all the recent problems and now looked forward to race 3. Fiona got a good start but Martyn Bell managed to slip past on the straight. The superior rear wheel drive traction and greater engine power helping him gain extra speed. Fiona stuck closely to his tail and once more started looking for places to re-pass him She made various attempts going into the Seat Curves, Car lube corner and the hairpin, but couldn't find a way through. Each attempt lost her some momentum dropping her back, but her lap times were much faster and she soon closed up again. All this battling was taking it's toll on her tyres though. They were now way past their best, making it harder to get the speed to catch and pass the BMW. Fiona kept pushing as hard as she could but the laps ran out and she crossed the line in 14th place. She was a little disappointed by this, as she knew she had been much faster than Bell but had just been unable to find a way past. Still it was another finish and the car had stayed reliable.
Fiona's next BTCC races are at the final round at Thruxton on October 14th. Fiona enjoys the Hampshire circuit and has had some excellent results there in the past. She will be hoping to build on the new found reliability in the car and finish the season on a high note!
If you can't make it down to the circuit to see the action, You can see it all on the usual channels, Setanta and ITV.