10th April 2006
Brands Hatch
Boston racing driver Fiona Leggate has finished her first three
rounds of the BTCC (British Touring Car Championship) season at
Brands Hatch.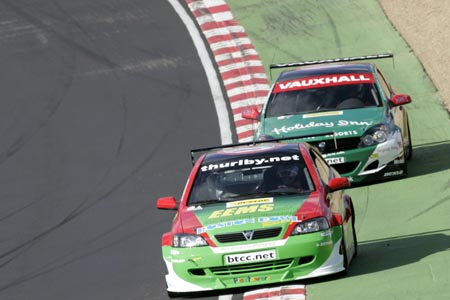 The only female entrant since 1991 in the 2 litre class- and the only driver to run her car on bioethanol fuel- didn't get out during the first race because of a troublesome starter motor.
She then began at the back of the grid for race two but span out going into Clearways on lap 13. Fiona was still struggling with the set-up of the car and its massive understeer. Fiona finished 12th.
Changes were then made to her Thurlby Boston Bowl Vauxhall Astra Coupe ready for the third race. Fiona got her best start in only her 7th BTCC meeting. She got off the line with such pace she took the Work Seat of Jason Plato and the Honda of Gordon Sheddon. By lap 12 Fiona was in 14th posistion with her lap times coming down. In fact, the 25-year-old's best lap time was only eight tenths of a second off the fastest lap of the whole race.
Fiona finished in an incredable 10th posistion picking up points for herself and the Thurlby Motors Boston Bowl Racing Team.
Races one and two were won by James Thompson from Harrogate with
Oxford's Jason Plato coming in first in race three. The next rounds of the season are on April 23rd at Mondello Park.
Fiona, who is sponsored by Thurlby Motors, EEMS, Boston Bowl and Staffsmart, said: "I'm looking forward to going to Mondello Park. It's a more technical track and I like technical driving."