25th June 2007
Oulton Park BTCC
The Picturesque Oulton Park circuit in Cheshire was the venue for the fifth round of the Dunlop MSA British touring car championship last weekend. Fiona was hoping to finally get some luck this round and score 3 race finishes.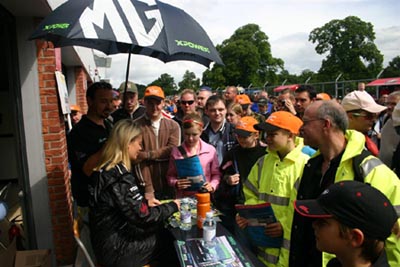 Sadly she and the team hit problems straight away in first practice, with Fiona having to stop in the pits after only 3 laps with problems with the engine, Throttle and brakes. This was a big blow to Fionaís weekend straight away and Fiona was hoping for plenty of laps in the car to build her experience. The problems were fixed for the second session and Fiona managed 14 laps in between coming in for a filter change. The car was suffering from under steer though and more work on the setup was needed. Qualifying was the final session of the day and despite some very dark and threatening looking clouds overhead the session remained dry. Unfortunately the engine developed a water leak and Fiona was limited to completing only seven laps, these being interrupted by a red flag when Tom Onslow-Cole spun his BMW into the tyres at Cascades. This left Fiona 22nd place on the grid, several places lower than Fiona and the team thought they could have managed without all the problems.
The engine was rushed over to Judd factory in Rugby, overnight for some urgent work on the Cylinder head. Without it, itís unlikely it would have lasted even the first race. It was worked on overnight and was driven back to the circuit in time to be fitted in the car for race 1.
With heavy showers forecast for most of the day it looked as though there would be 3 wet races, but the clouds cleared and there was even a little sunshine for the start of race 1 at just after midday. Fiona had an excellent start to the race and ran up as high as 12th before problems with Understeer and fading tyres dropped her down to 16th by the end. This would at least give her a better starting position for race 2.
By the time race 2 started the promised rain had arrived and the track was soaked. This perhaps not surprisingly caused carnage at the first corner with Erkut Kizilrmak hitting the Alfa 156 of Dave Pinkney which was in turn pushed into Fionaís team mate, Jason Hughes. He was spun into the barriers at quite high speed, completely wrecking his car. Fiona somehow managed to pick her way through all the chaos, escaping with just a tap from Gareth Howells Seat. The car seemed fine however and after a safety car interlude to clear up the mess, Fiona set about trying to pass Martyn Bell. The team, after seeing Jasonís car return from the pits, warned Fiona over the radio to take it easy as with all the damage to Jasonís car to work on there would not be time to fix two cars should anything happen to hers during the race. With this in mind Fiona decided not to take any risks and brought the car home in 15th place just behind Martyn Bellís BMW.
The team set to work on Jasonís car after the race as well as doing some patching up work on Fionaís car. Despite their hard work the team soon realised the damage to Jasonís car was too great and he would not be able to take part in race 3. Fiona would be the teamís sole driver.
By this time the rain had stopped and there was a dry if still slightly greasy track for race 3. Fiona got an excellent start, but there was again carnage at the first few corners. Cars went everywhere and Fiona picked her way through the mess, emerging in 11th spot. It looked like she might be able to get a top 10 place as well as finally getting three race finishes. She again found herself racing Martyn Bell in his BMW and was right on his tail. She found herself catching Bell rather too quickly however going into the chicane when Bell braked unexpectedly early and Fiona had to slam on the brakes hard to avoid hitting him. This flat spotted the tyres and let through Erkut, Richard Marsh and Chris Stockton who were following closely behind. Fiona carried on pushing hard, setting some of her best laps of the weekend even with the flat spot. She soon found herself behind Erkut again and was looking for a chance to pass him for 11th place.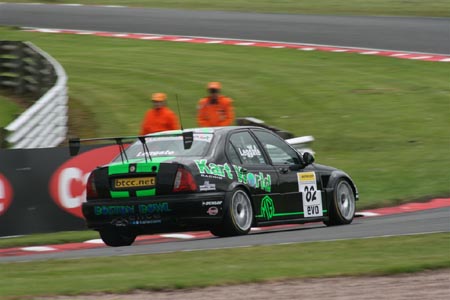 Sadly Fionaís terrible luck struck again, with 2 laps to go her suspension collapsed putting her out of the race. It had been another weekend which had started with lots of promise but delivered nothing. The team examined her car after the race and it was found that damage to her car sustained in race 2 was worse than first thought and it would need to go on a jig to be straightened. This would have effect the cars handling for race 3 where Fiona had set some of her best laps so it shows if Fiona could have got the track time she would have been right up there in the battle for points all weekend.
Merchandise was again available for fans at Oulton Park and was very popular once more. This was the first time the new watch made by Fionaís sponsor Black dice Industries was on show and there was a lot of interest. If you would like one of these unique and very special watches you will have to move fast as only 100 will be produced.
Fionaís next race will now be the BTCC at Donington Park in three weeks time. Fiona has not yet raced here in the BTCC, her engine failing on Saturday last year, putting her out of the weekend. Fiona will be hoping for better luck this time round. As always you can catch all the action on Setanta Sports or as a combination of highlights with a live race 3 on ITV.
Supplied by Marc Waller