14th January 2008
Autosport Show 2008
Fiona made a flying visit to this yearís Autosport international on Friday 11th January. One of the main reasons for her visit was to take part in the racing4charity.com Celebrity kart race, as part of the Karting for the Disabled team. Karting for the disabled is an initiative between the BRDC stars of tomorrow championship and Karting Endeavour, a group of drivers who do not wish their disability to interfere with their love of motorsport.
With the help of the Motorsport Industry Association (MIA), the championship plans to use the BRDC Stars of Tomorrow Race Control Centre to transport karts to race meetings, three karts initially and 10 eventually, modified with hand controls.
As a demonstration of the potential of the hand controlled karts, one was entered in the racing4charity event. As well as Fiona, the team consisted of top karter Martin Plowman, (Who is patron of Karting for the disabled.) 250cc front runner Lee Shepherd and Kimbolton Senior Max racer Robin Milton. British GT and F3 driver Stuart Hall completed the team.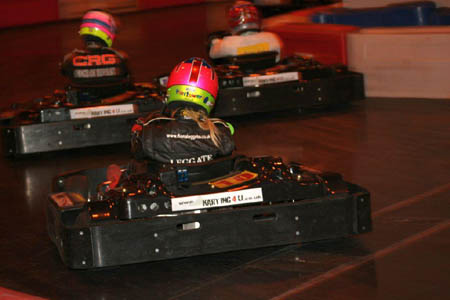 Fiona had a quick test of the hand controlled kart before the event and found it easy to drive. She was quickly up to speed on the short indoor track. The race itself got underway late after several delays and was a very chaotic one, making the BTCC look quite sedate in comparison! Unfortunately the karting for the disabled team didnít win the event, the top prize being taken by the Scuderia Renault team. But they had run very competitively in the hand controlled kart and had achieved the aim of showing a hand controlled kart can successfully compete alongside more conventional machines.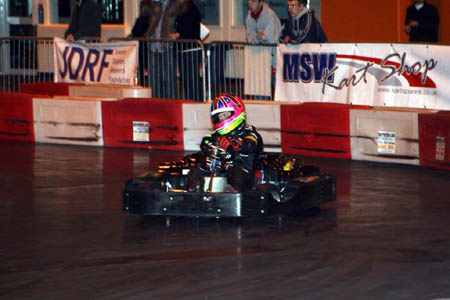 Fiona is currently trying to put together a budget to enable her to compete in the BTCC in 2008 and is looking for potential partners to help her achieve her aim of having her most successful season in the BTCC to date.
Supplied by Marc Waller