19th April 2010
Abarth at Silverstone
Silverstone was the venue for Fiona's latest rounds of the Trofeo Abarth at the weekend supporting the prestigious FIA Formula 2 event. The circuit has been undergoing a major transformation over the winter and with work not quite finished the circuit currently looks very different with earth, gravel and sand everywhere! This would have some effect on the racing with dust and dirt all over the circuit, despite officials best efforts to clean the track.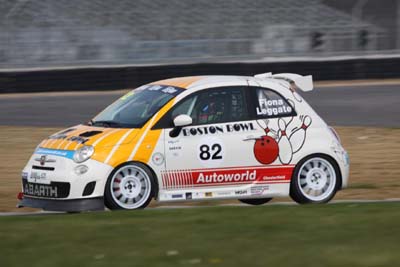 Fiona was hoping for a problem free weekend after the major engine problems at Oulton Park. With being out of racing scene the end of 2007 she needs as much track time as possible to get herself back up to speed.
Qualifying got underway first thing during Saturday morning with conditions being dry and sunny. Fiona managed to take tenth place a result she wasn't happy with but she had qualified ahead of her team mate Matt Shead.
Race one was held later that day, Fiona got a good start and was battling with John Gaw in the guest car when he suddenly moved across the track into Fiona going out of Stowe. The impact tipped Gaw's car over but Fiona was able to continue. She completed the race but afterwards there was an enquiry into the incident. At least one driver behind had witnessed the incident and said that it wasn't Fiona's fault but for whatever reason the stewards disagreed and removed Fiona from the results. As well as losing the points from race 1 this also meant Fiona would have to start from the back in race 2. It would be tough to get a good result now but Fiona decided to give it a go.
As race two got underway on Sunday Fiona got a brilliant start and was amazingly up to seventh by the end of lap 1. She had been taking the touring car line around Woodcote in the race which involves cutting over the white line on the outside. However this isn't permitted in the Abarth series.
A Black and white warning flag was held out to Fiona but unfortunately Fiona only just saw it and thought it had been a black flag. She returned to the pits where she realised her mistake and rejoined. Unfortunately she was now nearly a lap behind but she pushed on. It was too big a gap to close in the remaining distance but by the end of the race she had caught the last runner in front of her but this left her eleventh. Fiona was upset at losing what had looked to be an excellent result;
"It's so frustrating, I was having such a good race, I was already past Simonsen and several others and the car felt really good."
The series now moves to Fiona's home circuit, Cadwell Park in Lincolnshire where the series will be supporting the British Superbike championship. Fiona will be hoping being close to home finally brings her some much needed luck!
Report & Pictures supplied by Marc Waller