25th July 2005

More points for Fiona.

Bio-ethanol powered girl racer keeps it clean at Mondello.

It was a case of keeping her head whilst all around her were losing theirs for Bio-ethanol powered girl racer Fiona Leggate in the final race of the Dunlop MSA British Touring Car Championship at Mondello Park as the Tech-Speed driver worked her way to ninth overall in a race filled with incidents and drama.




Fiona, in only her second race meeting in the BTCC, displayed a remarkable amount of race maturity and truly adhered to the principle of energy efficient motorsport as she somehow avoided all the crash, bang, wallop shenanigans on track and crossed the chequered flag in ninth with seemingly the only non-battle scared car on the circuit.

"The third race was wicked," said an ecstatic Fiona after scoring two points in the overall drivers' standings. "I got a good start, I kept with the pack and I kept it clean to take ninth and two championship points, I'm well happy."

The weekend at Mondello Park in Ireland had started with a very steep learning curve. Not only had Fiona never raced at the circuit before, but the rain was lashing down and causing all runners plenty of difficulty as the qualifying session was stopped numerous times, including once for Fiona.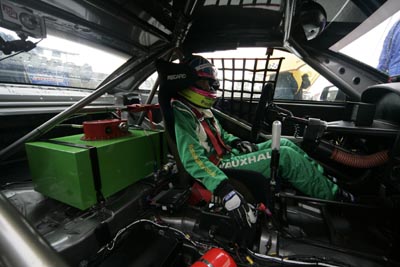 "I was a bit angry with myself after that," said Fiona, who is backed by Energy Efficient MotorSport and Boston Bowl Racing Ltd. "It was a wet session and we had the lights, wipers and heated screen going. I went a second quicker the lap before, then a second and a half quicker in the sector before I went off, but I was just too quick into the 7A corner and spun off. Because all the electrics were on the battery couldn't restart the engine."

With only five laps completed in the qualifying session, Fiona still out-qualified Mark Proctor in the similar Astra Coupe, and in the first race she faced a challenge to move forwards. "It was my first time on a dry track and with slick tyres but I was pleased with my driving," said Fiona who worked her way past the two Lexus in the race before chasing after the main pack. "I was just a bit disappointed not to catch the main pack and be in the thick of the action."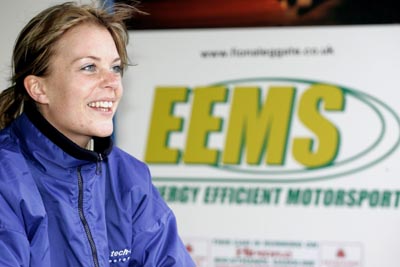 Race two saw a difficult decision for the team as the track was wet, but the rain seemed to be stopping. Fiona opted for caution and wet tyres, but it proved to be the wrong choice. The final race of the day was far better, as Fiona diced with the far more experienced opposition to bring her car back intact and in ninth place overall to impress fans and seasoned observers alike.

The next race of the BTCC sees Fiona take the Tech-Speed Astra to Snetterton in Norfolk, a track she has raced before. With a tenth place overall on her race debut, and a ninth in her second race meeting, an eighth must surely be the goal this time.

"Snetterton is a track I know," says Fiona looking forward to the race meeting in two weeks time. "I'll be happy to be racing with the pack and getting three race finishes."