FIONA'S FIRST TOURING CAR ANNIVERSARY AT CROFT SHOWS SPEED OF THE E85 FUELLED ASTRA

The EEMS-supported green-fuelled Thurlby Motors Boston Bowl Astra was at Croft North Yorkshire in glorious weather this weekend for rounds 13,14 and 15 of the British Touring Car Championship. Croft is 2.127 miles and always draws a big crowd for this meeting.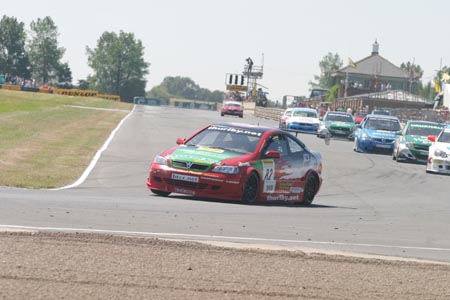 This was the first anniversary of 25 year old driver Fiona Leggate's first ever Touring Car race, and her experience having raced here before showed with a qualifying time improved over last year's time by one and a half seconds at 1:28.56, placing her 16th on the grid of 20 cars ahead of the works Vauxhall Astra Sport of Turkish driver Erkut Kizilirmak, and sixth quickest through both speed traps. 'The track is narrow and the corners are all different,' said Fiona as she pored over her race data, 'I'm looking at where I will be able to overtake.' The car runs on E85, an 85% bio-ethanol blend with petrol sold now in the UK for flexi-fuel vehicles. Bio-ethanol is a renewable alcohol fuel, which can be distilled from crops such as sugar beet and wheat, which are grown in Lincolnshire.

RACE ONE
After a busy hour in the sunshine signing autographs, Fiona's first race at midday started well and by lap three she had worked up to 13th position. The tight corners at Croft meant more contact than usual between cars, and a tap from another car meant contact with a kerb caused some damage. 'I could hear something had changed, I thought it was from the exhaust. I radioed the team and they looked as I drove past the pits and called me in. I'm gutted, I was doing so well.' However, this proved the right decision as the team found brackets broken on the exhaust, this gave a loss of power and if the exhaust had dropped it could have caused considerable damage to the car.

Still, Fiona was third fastest through the sector two speed trap at 98.5mph, beaten only by Rob Collard's Team RAC MG and Tom Chilton in the works Astra. The race lead was handed to Jason Plato of Seat by his teammate James Thompson, with Matt Neal taking third place and winning the Independents race in his Team Halfords Honda.

RACE TWO
The race proved to be one lap too short for Fiona, who started at the back because of her non-finish in race 1, and was caught out as she waited for Mark Proctor to get into position when the lights changed. 'Rubbish start', she said. She caught up with the pack and diced with Irkuk's works Vauxhall Astra and was closing on Martyn Bell's BMW. On lap 10 the gap was 5.512 seconds, by lap 15 it was just 0.604 seconds. 'One more lap and I would have overtaken him', she said, having come home in 16th position.

The speed traps again showed the pace of the Astra on the bio-ethanol blend fuel; with second fastest through the sector two speed trap.

RACE THREE
The cars were delayed on the grid with heat building up, the cockpit temperature measured at 50 degrees Celsius. The cars had to take another parade lap before the start and the race was shortened to 14 laps. Starting in 16th position on the grid, by lap 12 Fiona was 15th and briefly gained another place. 'I had several goes at Jones in his Lexus, we were side by side a couple of times but he came across me. I'm learning all the time, and now I also know how important your grid position is – those few tenths of a second to put you in front of someone are really important, otherwise you spend half the race trying to get past them.

'Collard hit me going into the long right-hander and knocked me sideways but I held it. I got past Bell at the hairpin, I was really racing.' Seat's James Thompson won the race from Team RAC's Colin Turkington in the MG ZS, with point's leader Matt Neal taking third and winning the Independent's race again.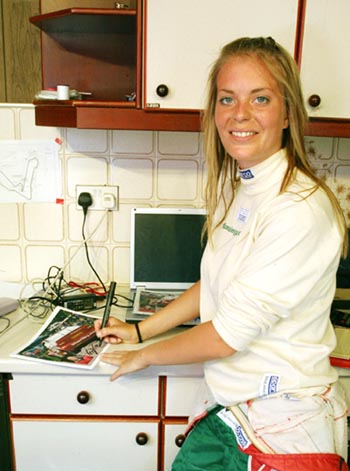 Team Manager Marvin Humphries was fairly pleased with the weekend. 'It's been a bit mixed,' he said, 'to get past these guys you have to push on and show you're going past, and she's learning that now. Donington in two weeks should suit us.'

Rounds 16, 17 and 18 are at Donington Park, Derbyshire on 30 July, with live TV of the third race and edited highlights of the first two races of the day on ITV, and live coverage of the meeting on Motors TV.
Pictures by Chris Lamb