16th January 2006
Murray Walker interviews Fiona
Over the weekend British Touring Car Female Racing Driver Fiona Leggate has been at the famous Autosport Show at the Birmingham NEC.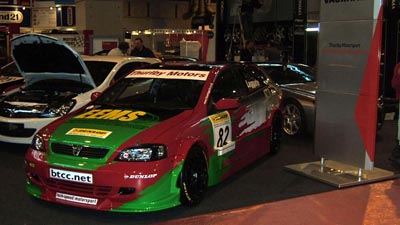 Miss Fiona Leggate a local girl from Lincolnshire has only been racing for 3 years and will want to prove what potential she has now that she is fully back by The Thurlby Motors Group.
The British Touring Car Fiona will race in the hugely popular series which is televised live on iTV was on display at the Autosport Show on the Thurlby Motors Group stand.
The Thurlby Motors Group which has Vauxhall showrooms in Alford, Louth and Boston also had the brand new 200bhp 888 produced Astra Diesel on display. This car, which has a limited run of only 100, has been built exclusively for Thurlby Motors and is available for £17995.

It was a very busy weekend for Fiona; voted 2005 Fan's Rookie of the year the very popular Touring Car Girlracer was talking to fans, signing autographs and having her picture taken by the mass of media attention.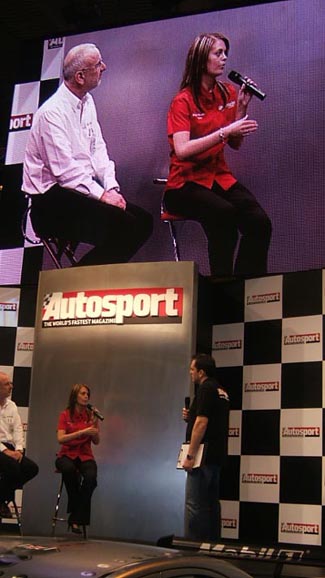 Fiona was interviewed many times on different stands including the main stage. Her particular highlight was being interviewed by F1 Commentator legend Murray Walker. The main topic Murray Walker covered was the fact Fiona is the only Female British Touring Car Driver to do a full season in 7 years. He also asked her if she would like to drive in Formula 1, Fiona said she would like to concentrate on the BTCC and progress into World Touring Cars or the DTM in Germany.
Over the weekend Fiona met Barry 'Wizzo' Williams, a Touring Car Racer in the 70's and had competed against Fiona's Father.
At the Dunlop BTCC party held at The Custard Factory, Fiona met up with some of her rival competitors which included 05 BTCC Champion Matt Neal and newly signed Works Vauxhall Drivers Tom Chilton and ex Works Alfa Romeo World Touring Car Driver Fabrizio Giovanardi.

For Further details on race meetings visit www.fionaleggate.co.uk