Spa Mini Challenge
BTCC Girlracer Fiona Leggate once again competed at the famous racetrack in Spa, Belgium in the Mini Cooper Challenge.
There was alot of racing over the long weekend, as well as two Mini Cooper Challenge races there was also be the International Dutch Supercar. The International Dutch Supercar is the main series of motorsport in Holland and will visit Spa, Belgium for two 1-hour races and will include some famous names from the motorsport world.
Spa Francorchamp is set in and amongst Belgium pine forests. The racetrack is well known for its tendency to be misty and undulating racing surface. Sometimes this can be very dangerous due to these conditions.
Fiona has quite alot of experience on the Spa racetrack. In her first year of motorracing she crashed out going flat at the top of the notorious El Rouge, she was rushed to hospital and suffered a broken collarbone.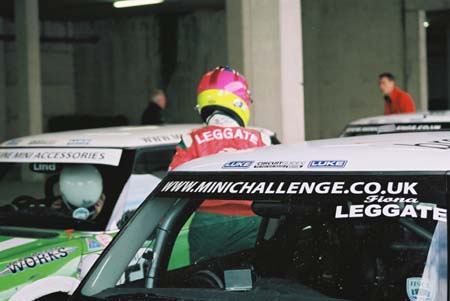 Three years on she was very focus and did not let past events bother her. Having only raced the Mini Cooper S owned by racer Angus Duke once before, Fiona was looking to build on her impressive debut which was held at Thruxton where she broke the lap record competing against 30 cars. Once again the mighty 210 bhp Mini Cooper S was prepped and run by Geoff Steel Racing. This will now be the second time Fiona has been run by Geoff Steel Racing, who also run Martyn Bell in the British Touring Car Championship. Fiona is very happy to be run by Geoff Steel Racing, already Geoff and Fiona has built a good working relationship which has already seen Fiona break the lap record at Thruxton.
Qualifying for the 32 Miniís was in a 20 minute window which made it very busy on track. After getting caught behind a safety car Fiona was only left with 5 minutes to put in a quick lap time. Unfortunately Fiona could not get her tyres warm enough in the small amount of time and could only manage a qualifying lap time that saw her placed in 10th position on the grid.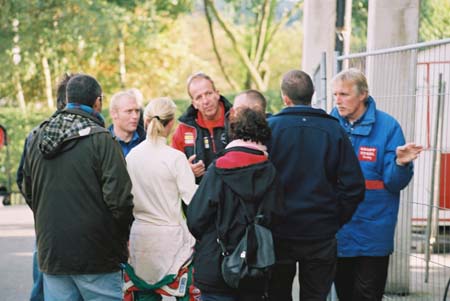 Fiona with Angus Duke (Mini Owner) and Geoff Steel Racing
With the long length of the circuit and relatively short time racing it is very difficult to move up the grid. Fiona got away well and manage to put in some very quick laps. Fionaís experience from racing at the Spa track began to show and she crossed the finish line 5th overall making up 5 positions.